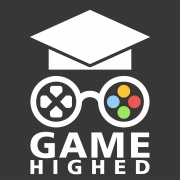 GAMEHIGHED is an initiative co-founded by the Erasmus+ program which aims to connect universities and support the development of game dev education. The main goal of the project is the innovation of teaching programs at universities, develop open edu-resources (OER) and a set of recommendations and guidelines for higher education in game dev careers.
Czech Game Developers Association is one of the five main partners together with four universities:
Kazimierz Wielki University in Bydgoszcz (Poland, Coordinator)
University of Jyväskylä (Finland)
Charles University (Czechia)
Bahçeşehir University (Turkey)
The funding of the project amounts to two hundred thousand US dollars over three years. We participate mainly in consultation activities. Associated partners include Indie Games Poland Foundation (IGP), Games Research Association of Poland, Sirius Games Studio, 4th Secondary School in Bydgoszcz and Film and TV School of the Academy of Performing Arts in Prague (FAMU).
All outputs of the project will be released under an open license free for both commercial and non-commercial use. Main outputs include reports on the state of higher education in game development in involved countries, proposed curriculums for bachelors and magister programs for game design, game development and games research, and guides and recommendations for the application of educational programs in game dev careers.
The project also funded international visits on the partner universities, which we took part in and in cooperation with Charles University in Prague helped organize a five-day workshop for the professors of foreign universities. We are proud to be part of the GameHighEd program and believe it will be successful in driving the development of higher education in the game dev industry.
You can find more information about the project on the official website https://gamehighed.ukw.edu.pl, including detail information about the partners and news around realization. If interested, you can also apply for cooperation (information about the call-for-collaboration will be released before the end of January).